We have had a pretty grim Spring so far. 
Instead of the warm, bright days, we've had lots of grey and rain.
My Chilli seeds haven't come up because it's been too cold, and I'm not sure how my red onions are going to go.
But one thing is definitely doing well and it was such a beautiful sight when I went into the garden this afternoon.
A handful of lovely red, sweet warm Strawberries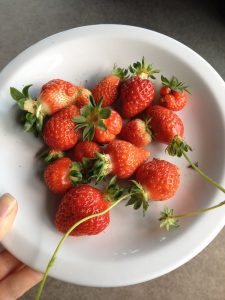 The 1st of what will be many pickings this Summer.
These will taste wonderful sliced with a wee sprinkle of icing sugar.
It might not look like Summer outside, but it's starting to taste like it at least.
Want to know more about gardening ?
Fill in your email address in the form below and you'll receive all the latest updates directly in your in-box.
Thank you for subscribing.
Something went wrong.