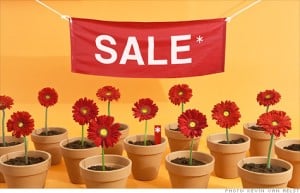 It's been a beautiful, sunny Spring day today so I decided to get out of the house, away from writing, away from my computer, and go to a local craft fair.
Being ever so slightly obsessed with quilting as of late, I pre-warned my husband that I might put a bit of a dent in the bank account with the purchase of more crafting supplies.
But he actually got off lightly because I got some excellent bargains.
And none of them were of the crafty kind. They were even better than that.
Meet my new babies.
I'm excited to welcome to our garden five new Tomato varieties and one Black Italian Courgette (hiding behind it's Tomato mates).
Now I don't normally buy too many plants any more. For one thing it's hard to find good quality, organic seedlings, plus I have a huge collection of seeds and all sorts of cuttings and split up plants that I use to grow our produce and fill up the garden.
When I do introduce new varieties into our edible garden, it's usually via the organic seed catalogues that I spend hours pouring over and trying to cull my picks down to a less excessive number.
I've alway figured, why buy someone else's plants, when I can grow my own.
But these plants were too hard to turn away from.
At $2 each they were not only pretty cheap for established plants ready to go in the ground, but they are also organic and are a really cost effective way of getting seeds for tomato varieties that I don't already have.
Compared to the $4-ish dollars I would normally pay for a packet of seeds, spending $2 to get a seasons fruit and as many seeds as I need feels even better.
So, I'll plant my little bargains, enjoy the fruit this Summer and then collect seeds to use next year, and so on for the coming years.
I have to confess though, that I don't actually know exactly what I will be getting from these plants. Yes, I know I have 5 tomatoes and 1 courgette, and I know what variety the courgette is, and 2 of the tomatoes, but the others don't have any labels on them and even though I knew what I was buying at the time, I now have no way of identifying them.
All I know, at the least, is that I have a Beefsteak, a cherry tomato of some kind, a Tigerella and then 2 others that I can't recall.
Could be interesting to see what I write on the bags when I collect my seedlings for next year……
Topics
#seedlings
#Seeds
#tomato
#tomatoes