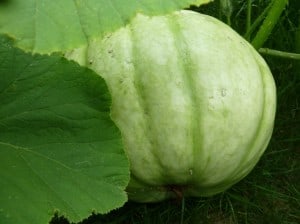 Right now I'm feeling incredibly impatient with my Pumpkin Patch.
I have some lovely, nice big Pumpkins growing and I'm excited to stash them away for our Winter pantry.
Pumpkins are planted in Spring/Summer and growing quickly, usually maturing in Autum – approximately 14 weeks later.
We have been really lucky this year to have our plants produce at least 12 good sized Pumpkins. I love knowing that we have this fantastics crop to enjoy over the next few months, without spending a cent.
Pumpkins are best harvested when the vines start to shrivel and die. This is when the fruit (yes Pumpkins are actually a fruit : ) is likely to be most mature which will help it to store well, as well as tasting better.
And it the harvest I am impatient for! I just want to tuck these beauties away safely before our first frost turns up unexpected.
When it comes time to harvest these Pumpkins they should be easy to snap off the vine, leaving a small stalk at the top of the pumpkin.
Then I will store them away somewhere cool and dark ready for delicious Winter fare. Pumpkin Muffins, Pumpkin Soup and Pumpkin Risotto are just some of our favourite Pumpkin Recipes.
And they always taste best with homegrown, organic Pumpkin.
I can't wait for that first bite!

Topics
#Autumn
#Fruit
#Pumpkins