There was a time when growing Spinach, Silverbeet or Kale seemed like the worst idea in the world, to me.
I never really enjoyed these vegetables as a child, and even once I figured out how I most like to eat them as an adult, their vibrant green-ness was still an irregular occurrence on my plate.
Certainly, growing just one plant of each would have been more than enough for us as family. Even then, we would be lucky to use more than we wasted.
The disappointing part was that I knew how good these greens are for me. I knew full well that eating them would bring me and my family more health and vitality.
I wanted to like them more. I wanted to want to eat them.
But I just couldn't seem to enjoy them enough to eat them more, and I wasn't exactly overwhelmed with exciting recipes that used these vegetables in a tasty and interesting way.
So when I discovered that there was an easy way to take in a lot more green vegetables, without having to try and incorporate them into every meal, I was pretty excited.
Not only by the fact that I would finally be able to get the nutrition I knew would benefit me, but also because I now had a great way to use up all those extra leafs of Spinach, Silverbeet and Kale.
Green Smoothies
Most of us are familiar with smoothies. Lovely cool drinks made with berries and other fruit, ice and sometimes even ice-cream.
Green smoothies are similar, but their main ingredient is, well, green.
Green smoothies are made with a large portion of green vegetables. Common ingredients are Lettuce, Silverbeet, Spinach and Kale.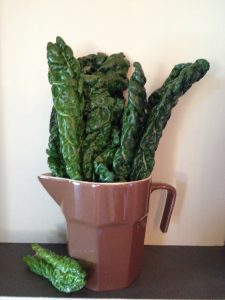 You can then add to the mix a mixture of fresh fruit including berries, bananas, apples, oranges, kiwifruit etc.
Finally, with a good amount of water and ice, you create your green smoothie.
The great thing about the green smoothie is that it you can blend in a lot more green vegetable matter, than you might eat in one sitting, making it a really easy, quick, and tasty way to get all those green benefits without the boredom.
With the fruit added you also get plenty of other vitamins and minerals as well, making this a super healthy way to enjoy your produce.
Green smoothies were originally made popular by the Butenko Family who migrated to a completely raw diet after every family member became sick with various ailments and illnesses.
As part of her mission to find more ways to consume fresh vegetables, raw, Victoria Butenko considered the diets of Chimpanzies who eat a lot of green leafy vegetables, which they masticate completely, before swallowing. This allows them to get a lot more nutrients out of those vegetables, literally breaking the cells open with their teeth, rather than simply swallowing and then missing out on the really good stuff.
Humans, unfortunately do not tend to chew their food more than a half dozen times and would never consider masticating their food so thoroughly. Therefore, they miss out on the nutrients other species gain.
But if there was a way to break up open those cells an still keep all the goodness, then we could get all the real goodness green vegetables have to offer.
The Green Smoothie was created.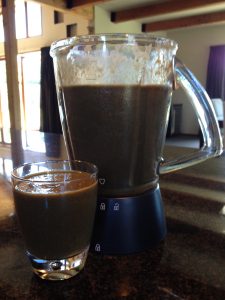 The fun part is that you can make all sorts of different combinations of leafy greens and fruit smoothies. Here's just a few to get you started:
½ Lettuce (Cos/Romaine types)
2 Bananas
1 Pear
2 Cups Water
Mint
4 Peaches
2 Bananas
Bunch Spinach
2 Cups Water
1 Cup Raspberries
1 Cup Blueberries
2 Bananas
Huge Bunch Spinach
2 Cups Water
½ Lettuce (Cos/Romaine types)
2 Bananas
1 Cup Strawberries
2 Cups Water
4 Apples
Juice of ½ Lemon
5 Leaves Kale
2 Cups Water
4 Ripe Kiwifruit
1 Banana
4 Stalks Celery
2 Cups Water
2 Large Mangos
1 Bunch Parsley
2 Cups Water
4 Pears
5 Leaves Kale
Bunch of Mint
2 Cups Water
4 Bananas
2 Handfuls Spinach
2 Cups Water
3 Pears
1 Cup Pineapple
5 Leaves Kale
2 Cups Water
4 pears
1 Bunch Parsley
2 Cups Water
2 Large Mangos
Bunch Spinach
2 Stalks Celery
2 Cups Water
And if you want to find out more about Green Smoothies, and the Green Smoothie revolution, check out Victoria Butenko's book:
Turning Over A New Leaf (I couldn't resist)
Now, I can't grow enough Spinach, Silverbeet or Kale!!
Rather than begrudgingly using part of the garden to grow a few plants that I felt like I should grow, now I plant a new batch of lettuce, spinach and silver beet every few weeks, just to keep me in supply.
With a frozen stash of berries from all our canes as well, I have everything I need to make a delicious, nutritious snack every day.
So, even if you haven't been a great lover of leafy greens in the past, I encourage you to get growing a few plants, and try using the leaves for Green Smoothies. 
It's a great way to bump up your nutrition, a good reason to add new varieties to your edibles repertoire and green smoothies are the perfect slime looking drink for Halloween!