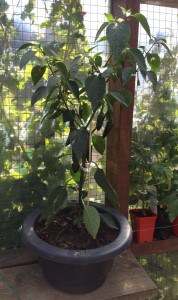 We absolutely love Chillies, and we eat A LOT of them. 
Which is why we absolutely have to grow our own, because if we didn't, come Winter when they are out of season, they easily fetch up to $6 for 5 pretty sad looking red chillies and we're refuse to pay that much for them.
We have been really lucky with our chilli plants and always get a pretty good crop. But it's always sad to see these lovely ornamental plants shrivel up and die when Winter sets in.
Well it used to be sad, before we began growing our Chilli plants as perennials.