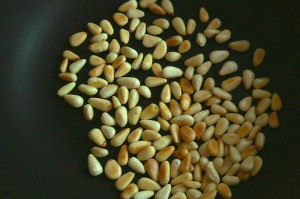 Any pesto worth it's weight needs pine nuts.
And, in our house, a Caesar salad without pine nuts is a sad thing indeed.
But every time I buy a small packet of these delicious little nuts, I cringe at the $9 price tag, for just 80 grams of nuts.
Maybe I should be growing them myself instead? After all, that's one of the reasons we created our edible garden, so we could save money.
So I did a little investigating.
It turns out that once you learn what goes into growing, and harvesting pine nuts, you may not resent the price they fetch so much.
Growing A Pine Nut Tree
There are actually a number of different varieties of Pine tree that the Pine Nut can be harvested from but the ones used most often, due to the bigger sized nut they produce, are Pinus koraiensis, which is used for the majority of commercial pine nut supply, or Pinus Pinea, the Stone Pine, preferred in the European regions.