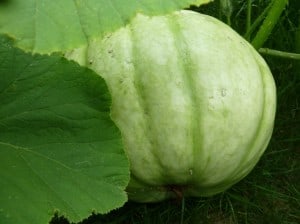 Right now I'm feeling incredibly impatient with my Pumpkin Patch.
I have some lovely, nice big Pumpkins growing and I'm excited to stash them away for our Winter pantry.
Pumpkins are planted in Spring/Summer and growing quickly, usually maturing in Autum – approximately 14 weeks later.
We have been really lucky this year to have our plants produce at least 12 good sized Pumpkins. I love knowing that we have this fantastics crop to enjoy over the next few months, without spending a cent.