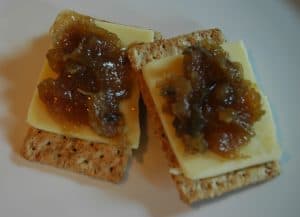 Last year, we grew a LOT of Leeks.
We enjoy Leeks. I wouldn't say they are either of our absolute favourite vegetable but they definitely make a regular appearance on the table.
Even then, there was no way we were going to get through the 20 or so sandwich bags we had full of them in our freezer.
We had already given away a dozen or so bags, but I have to say, Leeks don't seem to be a particularly popular vegetable among my friends and family so it was difficult to even give them away.
I really wanted to find a way to use our supplies up though. I didn't want to waste them since we had gone to the effort of growing them and I just knew we had to find a way to enjoy more of our home grown Leeks.
Maybe there was a way of preserving Leeks, other than freezing them?
After searching around online I didn't really find anything that excited me but I started thinking about all the Onion Jam recipes I had seen, and whether using Leeks would work just as well.
So, with 3 bags full of Leeks, a few other ingredients and my preserving pan, I went into experiment mode.
With fabulous results!!
Creating Caramalised Leek and Garlic Jam was a perfect way to use our extra Leeks.
Caramalised Leek and Garlic Jam
4 whole Garlic bulbs
Olive Oil
4 Cups of Leeks, chopped
2 Onions, diced
50 grams of Butter
3/4 cup of Cider Vinegar
1/2 cup of Lemon Juice
2 Tbsp Balsamic Vinegar
1.5 Tsp of Ground Mustard
1 Tsp of Salt
3/4 Tsp of White Pepper
1/2 Tsp of Ground Ginger
4 Cups of Sugar
Cut the tops off the top of the Garlic heads, drizzle with olive oil and roast at 425 degrees for 35 minutes, until browned. Leave to cool.
In a large saucepan, sautee the leeks and onions in the butter, until soft and slightly brown.
Squeeze the roasted garlic out of the bulbs, into the pot with the leeks and onions.
Add the vinegars, lemon juice, mustard, salt, pepper and ginger.
Bring to the boil and then add the sugar.
Let the mixture boil again and boil for 5 minutes, stirring constantly.
Remove the pot from the heat and spoon the jam into hot, sterilised jars, then seal.
Note: 4 cups of sugar produces quite a sweet Jam. If you want to make a Jam that is more savoury, I recommend reducing the ingredients to 3 cups of sugar.
This jam has a more mild taste than Onion Jam, which some people may prefer.
But it is certainly no less tasty.
In fact because we have already polished off 3 jars of it, I can see that we may end up using ALL our stored Leeks to make more of this Jam.
Give this recipe a try, and let me know what you think. Or, do you have another way to preserve Leeks that we might try? 
Want to know more about gardening ?
Fill in your email address in the form below and you'll receive all the latest updates directly in your in-box.
Thank you for subscribing.
Something went wrong.