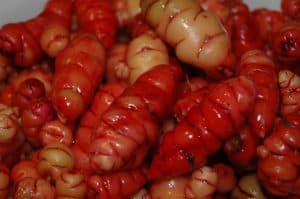 We've had 3 or 4 good hard frosts already this Autumn. Jack Frost has definitely started his rounds .
Which means it is time to harvest the Yams!
I have to be honest and say that when I see those first frosts, my mouth starts watering thinking about the fact we can soon harvest the sweet morsels hiding beneath the earth.
Now I have to be careful here when I talk about Yams because Yams are referred to as different things in different parts of the world. The Yams I'm talking about look like this –