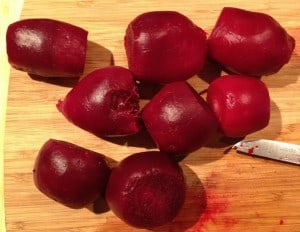 I've never been a fan of Beetroot. 
I think I was put off it as a kid when it would come in a burger (common addition to a New Zealand burger) and even if I took it out, it would leave a big, soggy, bright red stain on the burger bun that I would then have to eat around.
Or maybe it was from reading too many historical novels that would describe a hideous sounding meal including boiled beets.
Either way, they've never been a vegetable I've warmed too, and so it is another vegetable that I never used to grow.
There's a bit of an obvious pattern that has been occuring in our edible garden. Because I am the primary gardener, if I don't like something, I don't grow it. The problem is that this means I haven't been growing quite a few things that my husband actually enjoys eating. Like broccoli, and beetroot.
I've been planting broccoli for a few seasons now, and after receiving a free packet of beetroot seeds with a seed order, I decided to pop them in 'just for the heck of it'.
And they grew nicely.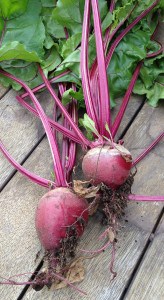 I can't say I tended them perfectly but they fattened up anyway and produced some nice little beets.
I pulled a few out, quite proud of their progress, and when my husband saw them he exclaimed 'I love beetroot!'
"How do you like them?" I asked, unsure of whether he had had them any other way than out of a can.
"Like the stuff in the cans" No suprises then.
So off I went, determined to make the best organic, 'canned' beetroot he had ever tasted.
I decided to make just one jar to begin with, just in case it turned out awful.
I'm happy to say though, that my perserved beets turned out pretty damn fine.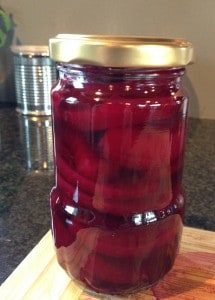 My sweet man demolished the whole jar in one standing (over the kitchen sink) and ooh-ed and ahh-ed all over his delicacy. Apparently they were the best beets he had ever eaten.
It's only fair then, that I should share the recipe with you, the Growing and Gathering readers.
It's not complicated at all, and there is perhaps a fancier, more spiced and exotic version to be made, but this is the recipe that produced the 'best beets ever', so I'm going with it.
Preserved Beetroot
Half dozen Beetroot
1.5 cups of Malt Vinegar
1 cup of Water
1 cup of Brown Sugar or Stevia
1 teaspoon of Salt
Wash the Beetroot to remove most of the dirt and then chop leaf stems off the Beetroot so only an inch or so is left.
Place Beetroot into a pot of water (skins on) and bring to the boil.
Boil until the Beetroot is soft – about 30 minutes – think of the softness you aim for with potatoes.
Remove from the boiling water and allow to cool. Save the water for the preserving mixture.
Start making the preserving mixture while the Beetroot cools.
Put all ingredients into a pot, and bring to the boil.
Boil for 10 minutes.
When the Beetroot has cooled, rub the skins away – they should come off easily having been boiled.
Cut the Beetroot into slices, and then halve the slices if desired.
Place the Beetroot into sterilised jars, so the slices lay horizontally in the jar.
Pour the boiled preserving mixture into the jar, over the Beetroot.
Seal with sterilised lids and then using heat protection, gently tap the bottom of the jar on a chopping board to force the air bubbles up to the surface and also settled the Beetroot slices.
Leave the jars for at least a week so the Beetroot pickles. (We only just made the week in our house before the contents were demolished so if you have Beetroot lovers like I do, you may need to stash your jars away so they don't get opened prematurely).
Enjoy!!
Want to know more about gardening ?
Fill in your email address in the form below and you'll receive all the latest updates directly in your in-box.
Thank you for subscribing.
Something went wrong.
Last update on 2023-11-22 / Affiliate links / Images from Amazon Product Advertising API