In recent years there has been a growing awareness related to the environment. People are changing the way they work and live their lives. As a result of environmental awareness, there has been a surge of many eco-friendly products that have gained recent popularity. One such product is a compost tumbler.
Those who are not familiar with the new-age versions of a compost tumbler might assume it to be a large stinky structure that is used in nurseries or waste decomposition grounds. However, in recent years a more portable and easy to use compost tumbler is being used by people all over the world.
What Exactly Is a Compost Tumbler?
A compost tumbler is a simple device that is used for composting. In simple words, it is a sealed box where one puts the remains of biodegradable waste, which then changes into manure. This device is fully sealed, which helps it retain heat. This heat retention is crucial for breaking down biodegradable waste. To speed up the process of composting, you can also rotate the material inside the tumbler with the help of in-built flippers and levers.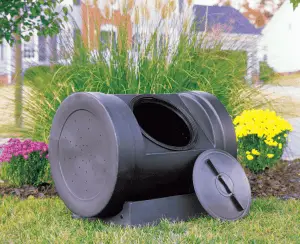 Using a compost tumbler has become popular amongst rural and urban households. The reason for this popularity is the ease of using it. Additionally, these devices make sure that unlike compost bins, there is no foul smell generated during fertilization. Tumblers keep rodents and insects away from feasting in the decomposed material and go seamlessly with the aesthetics of a modern space.
Types Of Compost Tumblers
Over the years, there have been numerous experiments and attempts with compost tumblers. As a result, we now have multiple types of these products. The types of composting machines are categorized in various brackets like size, use, and purpose. There are compost tumblers that are specifically designed to deal with animal-based inorganic products and plant-based inorganic products.
Though the distinctions in compost tumblers are endless, one can categorize these devices broadly into three categories: Sealed Drum Compost Tumblers, Aerated Drum Composters and Wired Compost Tumbler. Here is a simple overview of these three types of composters:
Sealed Drum Compost Tumblers
This is the simplest and the cheapest model. It has a very uncomplicated design. There is basically a small opening that allows the user to put in compost. To flip the items, there are bases with rollers inserted inside the tumbler. The shape of this tumbler is usually cylindrical.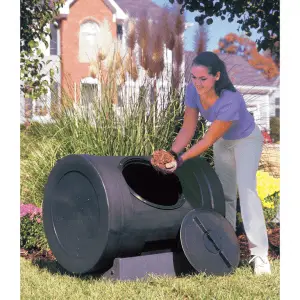 Sale

FCMP Outdoor IM4000 Dual Chamber Tumbling Composter Canadian-Made, 100% Recycled Resin - Outdoor Rotating Compost Tumbler Bin for Garden, Kitchen, and Yard Waste, Black (37 Gallon)
Made in Canada from 100% post-consumer recycled plastic - The original 8-sided dual chamber tumbling composter.
TUMBLING COMPOSTER – Avoid digging and mixing your compost pile by hand. The tumbling design makes mixing easy and efficient. Just close the door and turn it 5-6 times every 2-3 days. In hot sunny conditions and with a proper balance of ingredients the compost can finish in as little as 2 weeks.
EASY TO USE – Fantastic for beginners! The large openings and removable door make it easy to add scraps/clippings and remove finished compost. Deep fins on the body provide great ergonomic handholds.
TWO COMPOSTER CHAMBERS ARE BETTER THAN ONE – Two separate sides allow the first side to finish while leaving the second side available to add fresh scraps/clippings. Continuously swapping sides after finishing will create an uninterrupted flow of rich, healthy compost. Total capacity 37 gallons (5 cu Ft)
EXCELLENT AERATION – All our composter models feature aeration holes as well as deep fins to break up clumps inside the chamber and mix lots of oxygen into the compost. Tumbling composters allow far greater aeration than standard models.
Aerated Drum Composters
As the name suggests, the aerated drum composters are made in such a way that you can direct air to the compost. This direction of air allows faster decomposition. Different models have different ways of facilitating aeration. This model is best suited for those who need frequent batches of compost.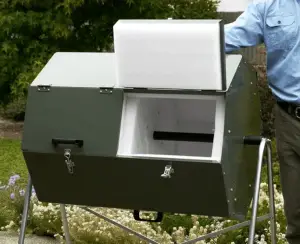 Garden Compost Bin from BPA Free Material, Dual Rotating Outdoor Composting Tumblers (43 Gallon,Black)
DUAL CHAMBER COMPOST BIN - Dual chamber composter allow for continuous composting. Fill up one while the other nears the end of the compost process, the rich black stuff ready to use. Once empty, that becomes the one to fill up while the other completes the cycle.
AERATION SYSTEM- Aerated internal bar mixes compost & allows needed airflow.Black, double-wall panels absorb and retain heat.Perfectly suited for your garden and for people not wanting to mix the organic waste in their traditional compost bin.
INGENIOUS TUMBLER DESIGN - Turns on axis for easy and balanced rotation.Easy slide doors will help keep track of each batch,the length of 1 door is 10.23" and the width is 6.1
CONVENIENT LOADING HEIGHT - Enough height to put a cart under this compost tumbler.Easy to turn barrel, waste mixed easily, fast batch composting.
STURDY POWDER-COATED STEEL FRAME - Powder-coated steel frame provides a sturdy base for the large compost bin.Galvanized steel feet prevent rusting and deterioration.
Wired Compost Tumbler
These tumblers are meshed with wires and have plenty of space between them. Now, the benefit of having these tumblers is the inlet of natural air. The spaces between the mesh will allow the air to penetrate through. Therefore, the process of composting will be natural.
However, wired compost tumblers have one major issue intact with them. They have large spaces that allow the air to penetrate and invite rodents, as well. Small rodents like rats can easily sneak in. Therefore, these compost tumblers require extra attention from your side.
8 Things That You Should Not Put In A Compost Tumbler
The idea behind composting is reducing the burden we place on landfills. It also enables us to reuse our green waste into rich and natural fertilizers. Even though technically one can compost every biodegradable object, there are some things that one should not add to their composting pit.
Composting is an easy and simple process, but it can get complicated if you mix together items of different chemical and organic properties. This is the reason we have different kinds of compost tumblers to deal with different kinds of material.
Here are a few things that you should not add in a compost tumbler.
1. Tea Bags
Tea leaf waste is one of those things that we produce daily in our kitchen. Tea leaves themselves are an excellent addition to your compost material. It gives the manure nutrients like phosphorus and potassium, which is great for plant growth. However, in a bid to include tea leaves in the composter, people often also include tea bags in the mix. These tea bags have plastic particles and inorganic fabrics which are not degradable. Rather they break into microplastics and pollute the manure.
2. Dog And Cat Faeces
Contrary to popular belief, not all kinds of feces are apt for decomposing. While human and cow dropping enrich the manure greatly, the feces of cats and dogs can adversely affect it. The reason being, the excreta of carnivores have microorganisms and parasites. Their presence in manure will be harmful to the health of the soil and the plant. On the other hand, they might carry diseases that can inhabit the plants.
3. Coated Paper
As it goes without saying, the paper can be easily composted. But these days most papers are finely coated in plastic. Every glossy paper that we see be it from a magazine cover, or some fancy packaging box has a thin plastic coating on it. When we add this type of paper in the compost, it ends up polluting the whole manure.
4. Uncut Citrus Peels
Leaves and peels of all kinds of fruits and vegetables are the main ingredients of organic composting. However, one should be careful when it comes to composting uncut citrus peels like orange peels and lemon peels. The reason is that the acidity excreted by citrus fruits harmfully impacts the microorganisms needed for composting. Therefore, you must first break the peels of citrus fruits into small parts and then add them. Perhaps, you can also look to dry them for friability, so they could easily break apart.
5. Coal Ashes
While coal ashes are organic in nature and make for great compost, they should not be added in a compost turner in large quantities. Many studies have found that the addition of coal ashes in small compost turners has resulted in high levels of sulfur content in the soil. This sulfur-rich soil is not good for plants. In fact, too much sulfur can even kill the plant. Therefore, coal ashes should be avoided when it comes to adding them in a compost turner.
6. Treated Wood
The simple reason which warns one against using the treated wood in compost turners is the presence of chemicals on it. Sawdust and bits of wood do not pose any problem in composting because they are natural. However, treated wood has traces of paint and varnish, which ends up contaminating the compost with toxic chemicals. More than that, the treated wood can also have harmful pests inside the surface. If you add them to consumable plants, it can have fatal impacts on the human body. Therefore treated wood should be kept away from compost tumblers.
7. Water
People might assume that water is a harmless addition to any kind of fertilizing unit. However, according to experts, one must steer clear of water when they are working with a compost tumbler. Water will make the degrading mixture sloshy and thin, which is not desirable. The moisture present in decomposing material is sufficient to activate fertilization. Any kind of excess addition of moisture will adversely impact the texture of the manure.
8. Artificial Fertilizer
People are often tempted to add artificial fertilizers in compost devices to expedite the fertilization. The presence of chemical fertilizers changes the nature of manure. The harmful metals added to toxic fertilizer changes the nature of compost. One should keep their patience and wait for the decomposition to happen naturally. In fact, there are other ways to enhance the speed of the composting. You can look forward to adding worms and insects; they will work for you to enhance the speed. However, avoid using artificial fertilizers.
Composting Is An Art
Composting does not mean that you dump all organic waste in a pile and wait for it to break down. Making manure is an art that requires skills and patience. Hence, one has to be careful about what items need to be added and how they should be added. There are other skills that are integral to the art of making manure, such as mixing the compost and positioning the composting device properly.
Want to know more about gardening ?
Fill in your email address in the form below and you'll receive all the latest updates directly in your in-box.
Thank you for subscribing.
Something went wrong.
Last update on 2023-09-07 / Affiliate links / Images from Amazon Product Advertising API