Recently we had a lot of rain, followed by some really warms days.
Which is optimal weather for growing lots of oversize Zucchinis.
It's awesome to get so many large Zucchini, but it's also a bit of a problem because a) Zucchini tend to get quite watery and a bit tasteless once they get too big and b) there really aren't that many ways I enjoy eating Zucchini so getting through them is a bit of a challenge, even after we try and give away as many as possible.
But there are two ways that I LOVE eating Zucchini that is helping make a dent in our stash. I love Zucchini Fritters, with sweet chilli sour cream, and I love Zucchini Relish with a delicious slice of aged cheddar on a good cracker.
I started making Zucchini Relish 3 Summers ago and it has quickly become a firm favourite of our family, friends and random locals from the neighbourhood. When I first sold jars of this relish 3 years ago, I created a demand I couldn't keep up with!! I had one particular old lady who used to buy all the jars I put out at once, returning the old jars, and would then knock on the door a few weeks later looking for more.
The great thing is that it's not hard to make, there are no horribly expensive or hard to get ingredients (as long as you're in the right season), and it doesn't take long to bring together.
Want to know how to make it, so you can share in the delicious-ness that is Zucchini Relish?
Here you go then.
Zucchini Relish
1.5kg of grated Zucchini (skins still on but tops removed)
250 grams of finely sliced or grated Red Onion
1kg Caster Sugar
5 tablespoons of Salt
625ml of Cider Vinegar
2 Capsicums (one red, one green)
1 tablespoon of Corn Flour
1 tablespoon of Turmeric
1 tablespoon of dry Mustard powder
1 tablespoon of Nutmeg powder
1/8 teaspoon of Cayenne Pepper
Combine the grated Zucchini and Onion into a bowl and mix together with the Salt.
Cover and leave overnight or for at least 4 hours.
Strain the juices from the Zucchini and Onion, then rinse with cold water, and strain again.
Put the Zucchini and Onion into a heavy bottomed pot, along with the rest of the ingredients.
Stir to combine then bring to the boil, stirring regularly.
Reduce the heat and simmer uncovered for 40 minutes, until reduced and thickened.
Sterilise and prepare 6 x 500ml preserving jars while the mixture is cooking.
Spoon the relish evenly into your jars while hot and seal.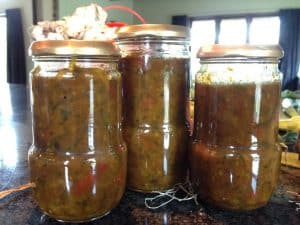 Serve with cheese and crackers, or with cold meats.
Enjoy!
Want to know more about gardening ?
Fill in your email address in the form below and you'll receive all the latest updates directly in your in-box.
Thank you for subscribing.
Something went wrong.